Types of Girl about the Globe (GatG) – Golf GatG, Hiking GatG, Nature GatG, Ocean GatG, Party GatG
Tenerife is a fantastic island to explore especially for solos. If you're planning a trip to Tenerife, This Tenerife travel guide has recommendations from myself and members of our solo travel community to help you plan your Tenerife holidays. Just click on the relevant section below or read the whole article. Happy planning!
Contents
Places To Visit in Tenerife
With its perfectly sun-soaked beaches, as well as being steeped in Spanish culture with plenty of attractions to visit, the island offers a lot more than sun, sea and sand for the solo traveller.
It is the largest and most well-known of the Canary Islands, Tenerife is geared up for tourism and is a mecca for party goers. If you don't want to party, avoid Playa de las Américas or Costa Adeje and head for Puerto de la Cruz, with botanical gardens and historic centres instead. The island's biggest attraction is Mount Teide, the third highest volcano in the world with a great viewpoint.
Climb mountains, wander through a cobbled old town, or just sunbathe on a beach before taking advantage of the nightlife. If you like golf, the island has plenty of golf courses to practice your swing on. With water sports, mountains and art galleries, Tenerife offers you a choice of experiences no matter how much or how little you want to do.
Local's Tip – "You have to see the haunted mansion (The Museo de Historia y Antropologia) where the legend of Catherine Lercaro has been seen walking through the halls."
Solo's tip – "Visit the Cathedral of La Laguna where Alonso Fernandez de Lugo, the founder of La Laguna is buried."
Mount Teide is the third highest volcano on a volcanic ocean island in the world. At 3,718 metres tall, it is the highest peak in Spain, and one of the best things to do in Tenerife is to take the Mount Teide cable car to Spain's highest peak and fly over an array of colours of volcanic formations and lava flows.
Teide National Park (dominated by the volcano that gave it its name), is a natural World Heritage Site with over 700 species of invertebrates including the Tizon lizard, native to the Canary Islands.
The lower cable car station is at 2,346 metres above sea level and has spectacular views of the peaks. The upper station sits at 3,555 metres altitude and when it's clear you can see some of the nearby islands too.
If you're feeling energetic and very fit, you can do the Mount Teide hike along trail number 10 but you do need a permit so it's best to take a local guide who can also teach you about its ecosystem and surrounding nature.
Teno Rural Park
For bird lovers, Teno Rural Park (known as Parque Rural de Teno), is a Tenerife forest, and natural sanctuary for birdlife on the island. Explore the high cliffs and volcanic ecological landscape whilst spotting wild birds such as the osprey and booted eagle.
Anaga Rural Park
Escape the crowds at Anaga Rural Park (Rural de Anaga Park), a mountainous area of primate forest located in the northwest of the island. The Anaga Range special climate is home to an abundance of native flora and fauna, with spectacular rock formations. Is beautiful landscapes and natural gardens are the perfect getaway from it all, and with no entrance, it's one of the free things to do in Tenerife.
North Tenerife
Puerto de la Cruz
Puerto de la Cruz is a seafaring town and although it is also touristy it has managed to maintain a balance between traditional and modern and is a lively cosmopolitan town. Nestled in the Orotava Valley, amongst fruit plantations and plenty of greenery, Puerto de la Cruz is whatever you need it to be.
Whether you prefer the rush of a water slide at a water park, seeing sea life at Loro Parque, soaking up the sun's rays on a sandy beach, or meandering around cobbled streets and plazas of an old fishing port. Whatever you're looking for you'll find things to do in Puerto de la Cruz.
La Laguna Tenerife
Visit the ancient town of La Laguna (called San Cristobal de La Laguna), the island's second largest city and a UNESCO World Heritage Site. This unfortified colonial town has typical Spanish architecture with wooden Canarian balconies, parks and charming squares. The Cathedral of La laguna is one of the sites to visit here.
La Orotava
La Orotava is a charming colonial town, set in a valley of banana plantations. It is one of the most well-preserved and dates back to the 16th century. With many cultural points of interest, La Orotava has been declared a Monument of National Artistic and Historical Interest. Even just walking through the streets are a historical experience.
Garachico Rock Pools
Garachio is said to be one of the prettiest towns on the island. The streets and squares here just ooze history and you can discover monasteries and old convents such as San Francisco and Santo Domingo as you explore its quiet old town. The best thing to do here is to go swimming at the sea and rock pools at Garachico, (Garachico piscinas naturales).
These natural pools at La Culata cliffs are a result of the volcanic eruption in 1706 that created the unusual pools. With views of the northern coastline, the salt water will entice you in for a long soak. There is a lifeguard on duty too.
Things To Do in Tenerife
Get Cultural in Santa Cruz
For the music Girl about the Globe, Spanish culture is prevalent on the Island and spending an evening with the Tenerife Symphony Orchestra is a great activity to do. Based in the Auditorio de Tenerife in Santa Cruz (a spectacular building), the orchestra performs an annual programme of events running from October through June, giving you the opportunity to hear the sound of Tenerife.
Spend Time at a Beach!
Tenerife is known for its black volcanic beaches but if it's golden sandy beaches that you're after, stick to the south of the island where you'll find both deserted and busy beaches with plenty of water sports such as jet skiing and parasailing.
For black sand beaches, head to the north near Anaga Rural Park, or soak in one of the natural pools that have been formed by lava at Bajamar, Charco La Laja, or El Caleton. The natural pool at Punta del Hidalgo is also good for swimming.
Explore The Ocean
Tenerife has some attractive coves to explore and the seabed around Tenerife is rich and diverse with rays, turtles, and conger eels. A large part of the island is steep so take good walking shoes with you if you choose to hike around the coastal cliffs. Los Gigantes in Santiago del Teide is the most breathtaking at 600 metres in height.
But if you prefer to sip a cocktail and watch the ocean from a bar instead, there are seven marinas to choose from Radazul, Candelaris, San Miguel de Abona, Puerto Colon, Los Gigantes, and Santa Cruz.
Whale Watching Los Cristianos
If whale watching Tenerife is on your travel wish list, you can experience whale watching at Los Cristianos, one of the things to do in Los Cristianos. Jump onboard a boat to the channel between Tenerife and La Gomera; the best place for spotting minke and sperm whales. More than 20 species are found off the coast and you may even see a killer whale!
Siam Water Park
Do the touristy thing at Siam Water Park. You don't need to be with others to experience Europe's largest water park. Called "Siam" due to its Thay style, it has gorgeous tropical vegetation and plenty of Siam Park rides to help you cool off from the heat, including water slides nearly 30 metres high. It's definitely a place to cool off and have some fun. Siam Park opening hours are from 10:00 to 18:00 between May to October and close at 17:00 in the winter months.
Relax and unwind on one of the many beautiful beaches that surround Tenerife, with many offering water sports and whale and dolphin watching excursions. But if you prefer to just take in the glorious surroundings, read a book or listen to music, then Tenerife is a great place to do it.
Things To Do in Tenerife at Night
If you're a party Girl about the Globe, the island attracts big named DJ's so get glammed up and party with the rest of the revellers at Playa de las Americas, especially at Flannigans, or Veronicas where you are guaranteed to meet others. If you're on the island between the months of July of August, you can spend the night at Siam Water Park dancing to a DJ on the weekend night by the wave pool. Very cool!
For something quieter and more reflective, gaze at the stars at the Izana Observatory, or book a buggy to drive to Mt Teide National Park by day and watch the sunset and constellations by night.
* Check dates, price and availability for Tenerife Stargazing
Tenerife Tours
G Adventures – If you feel more comfortable in a group for either part of your trip or the whole duration, G Adventures is a responsible tour company which mainly caters towards budget travellers. Their new tours include a hiking the Canary Islands tour, a 6 day tour from Puerto de la Cruz to Costa Adeje, seeing Anaga and beyond.
G Adventures has received the World Travel and Tourism Council's Safe Travels stamp, which provides travellers with assurance that they have implemented health and hygiene protocols that are aligned with WTTC's Safe Travels Protocols . I have personally used G Adventures and recommend them as a solo female friendly company.
* Click here for itineraries, prices, and start dates
Get Your Guide Tenerife – Get Your Guide helps you to find top-rated Tenerife Day Trips and activities in Tenerife. Choose from a La Gomera island tour, a catamaran whale watching experience and plenty of other Tenerife excursions to get your heart racing such as a jet ski safari around southern Tenerife, or a top buggy adventure Tenerife on a quad bike in Teide National Park. Some of the tours require a minimum of 2 people but there are several to book as a solo and it's really simple to use. Just check the reviews, price and availability then book online.
* Check all tours, prices and availability: Get Your Guide Tenerife

Places To Stay in Tenerife
There are plenty of areas to stay on the island, depending on what region you prefer to base yourself in. The best area to stay in Tenerife if you're looking to meet others is Playa de las Americas. Other good areas are Costa de Adeje, or Los Cristianos. As well as international hotels, and apartments you'll also find rural tourism in the south where you can stay in countryside cottages in picturesque villages or the mountains.
All of the budget accommodation below has been recommended by solo female travellers. For all other accommodation in Tenerife, click the link below.
* Check prices, dates and availability for all accommodation in Tenerife
To meet others and venture into the party area of Playa de las Americas, this bed and breakfast is perfect for getting people together. It has a communal area and a barbecue as well as a beautiful view to admire. The beds are comfy and there is a choice of mixed or female-only dorm rooms with breakfast included. Hidden away yet close enough to everything, you are only 5 minutes walk from Siam Park, Tenerife's famous water park. The bus from outside takes you to one of the nicest beaches too.
Prices start from €23 for a 4-bed female dorm room

Check prices, dates and availability:

Endless Summer House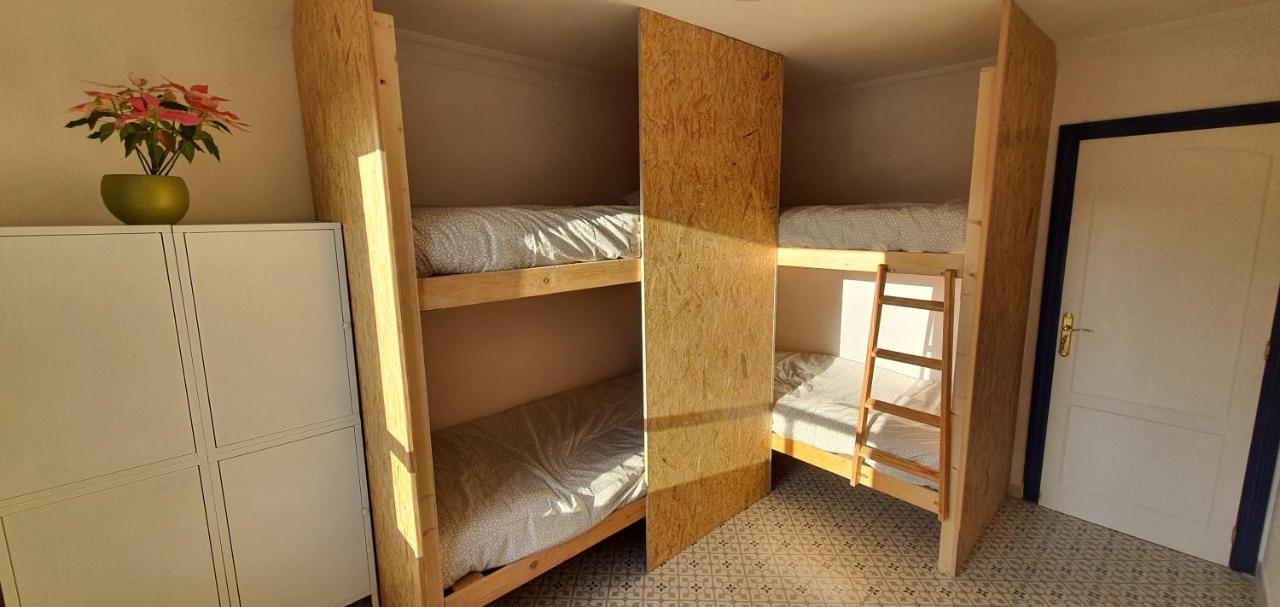 If it's adventure that you're looking for, look no further than Adventure House Tenerife. This cosy hostel offers all the adrenalin pumping activities that you need whether that's kayaking, snorkelling, cycling or hiking or if you prefer to just relax, you can just enjoy the nearby natural pools. Activities are daily and you have the freedom to take part. Situated in Alcala, the accommodation is away from the touristy area with a breakfast included and comfortable beds. Choose from a bed in a 4-bed female-only dormitory room or a 6-bed mixed dorm.
Restaurants in Tenerife
Heading back into the popular resorts, there is a huge variety of places to eat and drink and to get a taste of the Spanish cuisine. There are steak, paella and churro cafés, and restaurants that serve typical Spanish food.
KV Bar Gourmet – If you like seafood, this harbour-side restaurant is one of the best dinners you may have in Tenerife. The food is top quality and you'll find dishes such as streak fillets, oven-baked bream or salmon cannelloni all served with a harbour view. Outstanding French and Belgian food with the nicest staff. Find at 5, Calle Poblado Marinero.
Getting Around Tenerife
Tenerife has a good road infrastructure with two motorways that link the north and south of the island, making it easy to navigate your way around. The island's bus company is called Titsa and if you plan to take a few journeys, it's worth buying a Bono Bus card which you can buy on the bus or at the bus station. Buses are air conditioned. Check here for fares and routes
It's easy to take a taxi on the island as they have taxi ranks in every resort. Flag down ones with a green light on the roof, and the driver will turn on the metre. If you want more freedom then look at hiring a car instead. Car hire starts from €13 a day and you can collect it from the airport.
Tenerife Airports
Tenerife has two airports: Tenerife North Airport, and Tenerife South Airport – Reina Sofia Airport – which is the main tourist airport. Buses run every 30 minutes from Reina Sofia, or you can take a taxi from the terminal which will take at least 30 minutes to Los Cristianos and further to other places on the island. Buses and flights also run from Tenerife North. Click here for details for both airports.
* Feel more confident travelling to Tenerife alone with someone waiting for you at the airport when you pre-book a transfer with Hoppa, a reliable and safe service for solos.
Have you been to Tenerife? I'd love to hear your comments on what you thought of the island.
Related Posts